Happy Saturday dear readers! It is again time for a new challenge at Open-Minded Crafting Fun Challenges! The theme for the coming fortnight is:
Yep, Valentine's Day is on its way and you are more than welcome to make Valentine's cards, but just skip the traditional colours this time as we don't want to see any red nor pink. Here is what I came up with this theme...
Our generous sponsor Bugaboo Digital Stamps provided me with this image, which is called "Gus Tidbits - WTF". I coloured the image with ProMarkers and lightly inked the image with Distress Ink "Evergreen Bough". I added some Glossy Accent to Gus's goggles for additional glass effect. It looks really good in real life, but unfortunately doesn't show very well in the photo... I used some dark teal cardstock for matting both the image and the DP. The DP is from my scraps box - I'm trying to empty that as my regular readers may have noticed lately. :) The text came with the image and I used another DP from my scraps box under the text. The text is attached with 3D foam pads for additional dimension. I kept the embellies to minimum and added just some washi tape and brads.
We have four fantastic sponsors in our challenge:
Bugaboo Digital Stamps - prize 7 images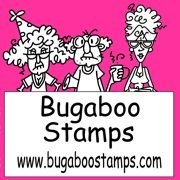 Faery Ink - prize 3 images
Oak Pond Creations - prize 3 images
Next you should go and visit Open-Minded Crafting Fun Challenge blog to see inspirational creations of my teamies. :)
I participate in the following challenges with this card:
Design Team Showcase Challenge 4
Sister Act Card Challenge #91 "Anything goes"
Edit 2.2.2015 prize information corrected.
Oikein hyvää lauantaita rakkaat lukijani! Kaksi viikkoa on taas vierähtänyt edellisestä
Open-Minded Crafting Fun -haasteen
DT-postauksestani, joten tänään on taas vuorossa sitä lajia. :) Seuraavat kaksi viikkoa askarrellaan teemalla "Ei punaista eikä pinkkiä/vaaleanpunaista", joten vaikka ystävänpäivä lähestyy, niin nuo perinteiset rakkauden värit on nyt syytä jättää töistä pois.
Omaan DT-työhöni sain valita sponsorimme
Bugaboo Digital Stampsin
digikuvan ja päädyin tähän
"Gus Tidbits - WTF"
-kuvaan. Väritin kuvan ProMarkereilla ja mustetin kevyesti Distress Inkin sävyllä "Evergreen Bough". Lisäsin Gusin silmälaseihin Glossy Accentia tuomaan lasiefektiä ja se näyttää luonnossa todella hyvältä. Valitettavasti valokuvasta efektiä ei oikein näe... Kehystin sekä kuvan että silppulaatikostani löytyneen kuviopaperin tummanvihreällä/turkoosilla kartongilla. Teksti tuli digikuvan mukana ja sen taustalla käytin toista silppulaatikosta löytynyttä kuviopaperia. Kohotin tekstin irti taustasta 3D tarrapaloilla, jotta sain korttiin vähän kolmiulotteisuutta. Pidin koristeet tässä kortissa minimissään, mutta lisäsin vähän washiteippiä ja muutaman haaraniitin.
Haasteessamme on jälleen mukana hienoja sponsoreita upeine palkintoineen:
Bugaboo Digital Stamps
,
Faery Ink
,
Oak Pond Creations
sekä
The Art of Ronne P. Barton
. Suuntaa siis seuraavaksi
Open-Minded Crafting Fun -haasteblogiin
ja käy katsastamassa tiimikavereideni luomukset. Tulet varmasti inspiroitumaan. :)
Osallistun kortillani seuraaviin haasteisiin:
Design Team Showcase Challenge 4
Sister Act Card Challenge #91 "Anything goes"
Edit 2.2.2015: korjattu palkintotiedot, pahoittelut virheestä.