Today marks the start of the first challenge for 2015 at Open-Minded Crafting Fun Challenges. The theme for this year's first challenge:
Personally I suck at sticking to New Years Resolutions, but this time I will do my best to keep this one... My resolution is to take care of myself even better, pamper myself regularly and enjoy life. :)

I decided to make an easel card using an image I got to choose from our generous sponsor The Stamping Boutique. The image is called "Princess Jennifer Latte Bubble Bath". The DPs are all from my scraps box and I used some light brown plain paper for matting. I cut the waves on the top of the card with Joy Crafts die. I cut two sets of waves and aligned them crossing each other to show both better and get a bit more interesting element on top.
I coloured Princess Jennifer with ProMarkers and I'm especially happy with the bath tube. I added Stickless "Frosted Lace" to the soap and some Glossy Accent to the separate bubbles. I distressed the edges with scissors and added a decorative pin on the top left corner of the image. The pin had the big top pearl ready, but I added some pearls and seed beads as well as a flower charm to it before attaching it to the image. I used also some white flat pearls on both sides of the image.
Inside the card I have some space for writing. The bottom has two laser cut hearts and a text stamped with two different stamps: "enjoy" is by Tim Holtz and "life" is by Fiskars. I didn't have suitable text ready and since I wanted to have the text on the piece of this bubble DP I couldn't print it out. So I decided to stretch my stamps a bit and make the sentiment from two different stamps. :)
We have again great sponsors in our challenge:

LiaStampz - prize 2 images
Meljen's Designs - prize 4 images
The Stamping Boutique - prize 4 images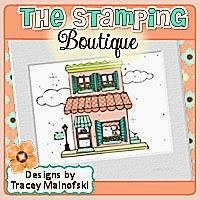 Zury Artsy Craftsy - prize 3 images
Now I'd like you to hop over to Open-Minded Crafting Fun Challenge blog and see the gorgeous creations my lovely teamies have made for your inspiration. We have some new DT members on board, so be sure to visit and leave some love for them!
I participate in the following challenges:
Passion for ProMarkers week 277 "Bingo": Die cut - Free (pearls) - Glitter
Sister Act Card Challenge #87 "Anything goes"
Tänään starttaa vuoden ensimmäinen haaste
Open-Minded Crafting Fun -haasteblogissa
ja haasteen aiheena on uuden vuoden lupaukset. Itse olen huono pitämään uuden vuoden lupauksista kiinni, mutta nyt aion yrittää ihan tosissani... Lupaukseni on pitää itsestäni entistäkin paremmin huolta ja hemmotella itseäni säännöllisesti.
Sain haasteessa käytettäväkseni sponsorimme
The Stamping Boutiquen
digikuvan
"Princess Jennifer Latte Bubble Bath"
. Väritin kuvan ProMarkereilla ja lisäsin Sticklessiä (Frosted Lace) saippuavaahtoon. Yksittäisiin saippuakupliin lisäsin Glossy Accentia. Ressasin kuvan reunoja saksilla ja lisäsin vasempaan yläkulmaan koristeneulan, johon lisäsin neulassa kiinni olleen helmen lisäksi toisen valkoisen helmen sekä ruskeansävyisiä siemenhelmiä. Lisäksi pujotin neulaan kukkariipuksen ennen kuin kiinnitin neulan kuvaan. Kaikki kuviopaperit ovat silppulaatikostani ja kerrostuksessa käytin vaalean ruskeaa yksiväristä paperia. Leikkasin kortin yläreunaan aaltoja kuviopaperista Joy craftsin stanssilla. Kiinnitin aallot limittäin, jotta sain aikaan kunnon aallokon, missä molemmat paperit näkyvät.
Kortin sisäpuolelle kiinnitin laserleikatut sydämet, jotka toimivat telinekortissa yläosan tukena kortin ollessa auki. Jätin reilusti vaaleaa kuplapaperia kirjoitustilaksi ja koristelin siksi vain alaosan. Teksti on rakennettu kahdesta eri leimasimesta, sillä sopivaa tekstiä ei ollut valmiina enkä voinut tulostaa sitä tietokoneella, koska halusin tekstin ehdottomasti tuolle kuplapaperin palaselle. "Enjoy" -teksti on Tim Holtzin leimasimella tehty ja "life" on Fiskarsin leimasimesta. Koska molemmat sanat olivat osa isompaa tekstileimaa, niin jouduin vähän tekemään maskia saadakseni leimattua vain yhdet sanat kummastakin, mutta lopputulos on ihan hyvä. :)
Haasteessa on mukana jälleen hienot sponsorit:
LiaStampz
,
Meljen's Designs
,
The Stamping Boutique
ja
Zury Artsy Craftsy
. Palkintoina on runsain mitoin digikuvia, joten kannattaa tulla mukaan! Käy myös katsomassa DT-kavereideni inspiraatiotöitä
Open-Minded Crafting Fun -haasteblogista
. Tiimiimme on tullut uusia upeita jäseniä, joten kannattaa käydä kurkkaamassa!
Osallistun kortillani seuraaviin haasteisiin:
Passion for ProMarkersweek 277 "Bingo": Stanssi - Vapaa valintainen (helmet) - Glitter
Sister Act Card Challenge #87 "Anything goes"