Faery Inkin Amanda on tehnyt upean digikuvan hyväntekeväisyyttä varten. Voit lukea lisää Amandan hyväntekeväisyysprojektista
Faery Inkin sivuilta
.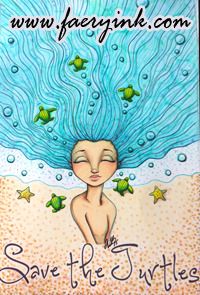 Itse olisin ostanut tämän kuvan varmaan ilman hyväntekeväisyysaspektiakin, mutta nyt oli erityisen hyvä kannustin ostaa uusi digikuva. :D
Tässä kortti, jonka tein kuvan innoittamana. Väritin kuvan ProMarkereilla ja puuväreillä ja lisäsin siihen erikokoisia vesihelmiblingejä. Taustan kuviopaperit on silppulaatikosta ja kerrostukseen käytin sinistä kartonkia. Aallot on stanssattu Joy!:n stanssilla ja aaltoihin lisäsin vähän Sticklesiä (Star Dust). Pari "meritähteä" leikattu ProMarkereilla väritetystä kartonginpalasesta Marianne Designsin joulutähtistansseilla. Siistin vähän kukkien terälehtien nypylöitä saksilla, niin näyttävät enemmän tähdiltä. :)
Tämä kortti on taas materiaalien tehokäytön esimerkki, kun mm. kerrostukseen käytetty kartonki meinasi loppua kesken ja jouduin taustasta leikkaamaan tuon kuvaa kerrostavan palan. Aallokko puolestaan jäi alaosasta vajaaksi, kun sen stanssasin kartonkipalasta, josta oli aiemmin stanssattu ympyrä. Tässä palat, joista kortti on kasattu.
Amanda arpoo hyväntekeväisyyssetin digikuvaa käyttäneiden kesken alkuperäisen väritetyn työn, joten tällä kortilla mukaan
tuohon haasteeseen
.
Amanda by Faery Ink has created this amazing digi image for charity (you can read more in Faery Ink website). I would have probably bought this gorgeous digi anyway, but now there was a good bonus included in the form of charity. I coloured the image with ProMarkers and pencils and added water drop gems on the image. DPs are from my scraps box and the waves are cut with Joy! die. I added some Stickles (Star Dust) in the waves. In the other picture you'll see the different pieces I used to put this card together (efficient use of materials). I needed to cut e.g. the layering cardstock for the image from the background cardstock as I didn't have enough this blue cardstock. Also, the waves are cut from a piece of cardstock where I'd earlier cut a circle and therefore the bottom of the waves has that curve... I finished the card with couple of "starfishes", which I cut with Marianne Design's poinsettia die and finished the edges of the die cuts with scissors so they look a bit more like stars. I cut them out of a piece of carstock, which I coloured with ProMarkers so they'll match the starfishes in the image.
Amanda has set up a challenge to use this image, so I'll participate in that challenge. One lucky winner will win original artwork of this image. Wow!